Elle Decor
HOW ONE CREATIVE COUPLE WENT FROM BAUHAUS TO PENTHOUSE
In Tel Aviv, architect Alex Meitlis and artist Ivo Bisignano live and work in a gleaming white loft.
When an ancient cave collapsed in a park outside of Jerusalem, Italian artist Ivo Bisignano and his husband, architect Alex Meitlis, knew that meant at least one thing: They would be sharing their Tel Aviv loft with a collection of wooden roommates for a while longer. It was Meitlis who had convinced Bisignano to exhibit his sculptures in a Judaean-era grotto. But in the fall of 2019, before the pieces were installed, the cave collapsed. "For the next three months, we were sleeping with them," says Bisi­gnano, a former fashion director for Vogue Italia, of his towering figures.
And then the pandemic hit, throwing the couple off their usual rhythm of three weeks in Tel Aviv and two in London, where Meitlis oversees the design of restaurants for his longtime friend, Israeli chef Yotam Ottolenghi. For months, he and Bisignano quarantined in their loft with their timber house­guests taking over the living room, terrace, and studio. They did eventually get their sunlit breakfast nook back after securing another cave; the exhibition, "Human Forms," opened last August in Beit Guvrin national park, a man-made quarry dating back to about 112 B.C.
.
.
.
.
For this creative couple, life is always an adventure—starting with the loft they share in a former industrial building in Florentin, a gritty neighborhood in south Tel Aviv. It's been Meitlis's home for more than three decades. As a young architect, he rented a tiny studio in the 1950s structure for his nascent practice. "My god," he thought then, gazing out the window at the bustling streetscape, "how lucky I would be if I could afford to buy this place." Soon, he did. Then the one next door. Within a few years, he owned all nine workshops on the top floor, tearing down walls to create a penthouse loft.
Still, when Bisignano arrived from Milan five years ago, his welcome via a concrete courtyard tagged with layers of graffiti made him think he'd made a horrible mistake. "I took the elevator, I said what the hell," Bisignano admits. "Then I opened the door, and it was a completely different point of view."
The steel-framed windows are all that remain from the original building. Meitlis started with an L-shaped blank slate and fashioned it into a live-work apartment: One branch is filled with bedrooms while the other houses offices for 
Studio Alex Meitlis
, his architecture and design firm. The two arms meet at a chameleonic corner room, where, pre-COVID, an oversize wooden table was used to host meetings by day and dinner parties by night. The space opens in all four directions, including onto a leafy terrace.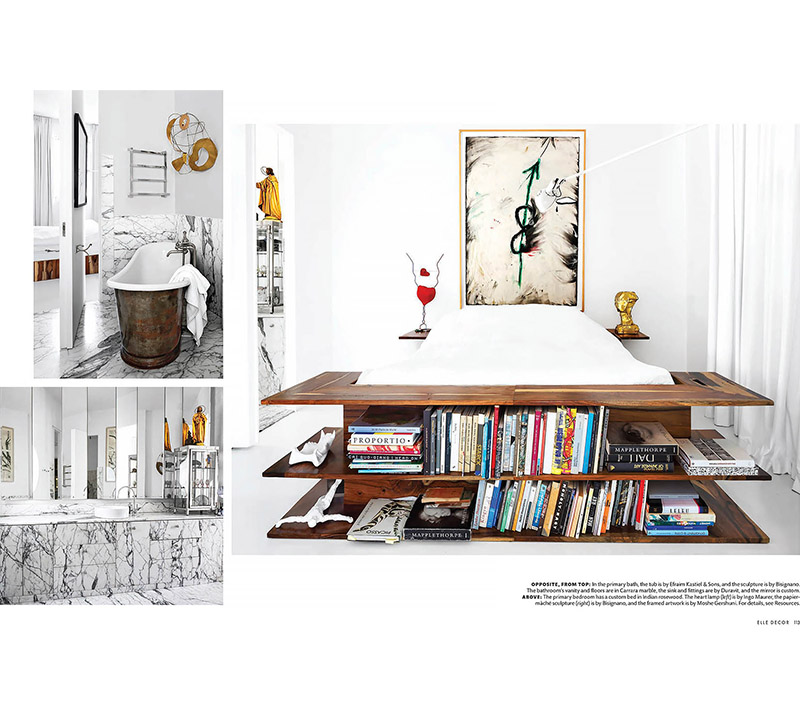 Glass steel-framed doors outfit every threshold, accentuating a sense of infinity amplified by the strategic use of white on every surface, from the ceilings to the Carrara marble floors. Meitlis loves how white glows in the Mediterranean light; it's also a wink at the Bauhaus architecture for which Tel Aviv is renowned.
The loft's fluid identity hinges on this feeling of boundlessness between home and office, art and design, inside and outside. "You don't know where it's finished, the space," says Bisi­gnano, who originally trained as an architect. "Is this the bathroom? No. This is the bathroom and. This is the bedroom and. There is no limit."
https://www.elledecor.com/design-decorate/house-interiors/a35418552/alex-meitlis-ivo-bisignano-tel-aviv-loft/